Bean Burger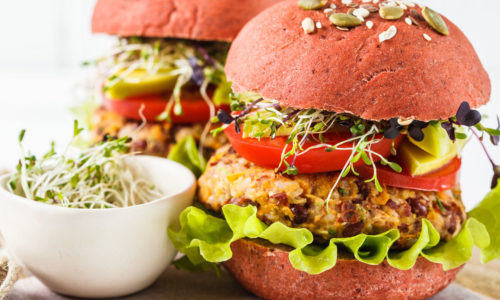 Ingredients:
2 tins of red kidney beans in water
1 tsp olive oil
1 onion, chopped
1 garlic clove, chopped
1 carrot, grated
1 green pepper chopped
1 tbsp tomato puree
1 egg
60g (2oz) dried breadcrumbs
To serve: wholemeal buns and salad
Method:
Preheat the oven to 200°C / 400°F / Gas mark 6.
Drain and mash the beans in bowl.
Heat the oil in a frying pan and sauté the onion for 3 minutes. Add the garlic pepper and carrot and cook for a further 5 minutes.
Add the mashed beans, tomato puree, egg and breadcrumbs and mix well.
Shape into 8 small or 4 large burgers.
Bake in the oven for 25 minutes or until golden and crisp.