Fish Fingers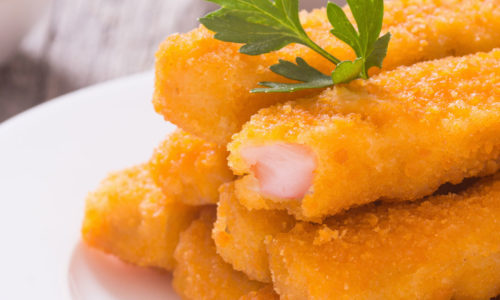 Ingredients:
2 salmon fillets, skinned
2 tbsp plain flour
1 lemon, zested
85g (2oz) breadcrumbs
2 tbsp, low fat plain yogurt
Black pepper
Method:
Preheat oven to 200°C / 400°F / Gas mark 6.
Mix the breadcrumbs with the lemon zest and some black pepper in a bowl.
Slice the salmon into 'fingers'.
Put the flour and yogurt into separate bowls and roll the salmon pieces into the flour, then in the yogurt and then into the breadcrumbs.
Place onto a baking tray and bake for 10-15 minutes and serve with salad or steamed vegetables and a wedge of lemon.